Acts of Creation (cassette tape)
Recorded at CONduit 3, May 1993 in Salt Lake City, Utah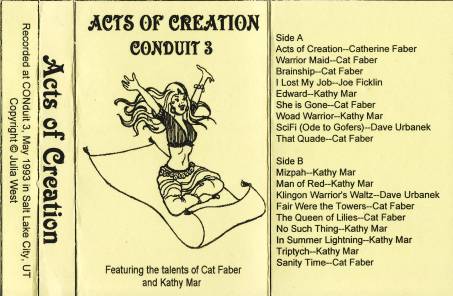 Song Title - Performer
Side A
Acts of Creation - Catherine Faber
Warrior Maid - Catherine Faber
Brainship - Catherine Faber
I Lost My Job - Joe Ficklin
Edward - Kathy Mar
She is Gone - Catherine Faber
Woad Warrior - Kathy Mar
SciFi (Ode to Gofers) - Dave Urbanek
That Quade - Catherine Faber
Side B
Mizpah - Kathy Mar
Man of Red - Kathy Mar
Klingon Warrior's Waltz - Dave Urbanek
Fair Were the Towers - Cat Faber
The Queen of Lilies - Cat Faber
No Such Thing - Kathy Mar
In Summer Lightning - Kathy Mar
Triptych - Kathy Mar
Sanity Time - Cat Faber
Copyright (c) 1994 by Julia West
Note 1: The real name for "I Lost My Job" is "ConChord/Rimini"
Note 2: Several of these songs are available as mp3s at [FilkArchive]
Ad blocker interference detected!
Wikia is a free-to-use site that makes money from advertising. We have a modified experience for viewers using ad blockers

Wikia is not accessible if you've made further modifications. Remove the custom ad blocker rule(s) and the page will load as expected.