(cassette tape)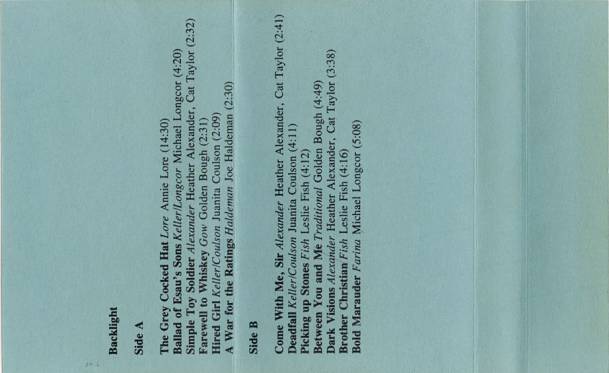 Side A
The Grey Cocked Hat (Lore) - Annie Lore
Ballad of Esau's Sons (Keller/Longcor) - Michael Longcor
Simple Toy Soldier (Alexander) - Heather Alexander, Cat Taylor
Farewell to Whiskey (Gow) - Golden Bough
Hired Girl (Keller/Coulson) - Juanita Coulson
A War for the Ratings (Haldeman) - Joe Haldeman
Side B
Come With Me, Sir (Alexander) - Heather Alexander, Cat Taylor
Deadfall (Keller/Coulson) - Juanita Coulson
Picking Up Stones (Fish) - Leslie Fish
Between You and Me (Traditional) - Golden Bough
Dark Visions (Alexander) - Heather Alexander, Cat Taylor
Brother Christian (Fish) - Leslie Fish
Bold Marauder (Farina) - Michael Longcor
---
"The Grey Cocked Hat" (c) 1983 Annie Lore
"Simple Toy Soldier," "Come With Me, Sir," and "Dark Visions" (c) Sea Fire Music
"Farewell to Whiskey" and "Between You and Me" (c) Golden Bough
"A War for the Ratings (c) 1988 Joe Haldeman
"Bold Marauder" (c) Warner Brothers
All other songs copyright Firebird Arts & Music, Inc.
Producer: Teri Lee
Artist: Larry Warner
Engineers: Dominic Bridwell, Duane Elms, Teri Lee, Melanie Mar, Petrea Mitchell, Tom Payne, John Snyder, Vic Tyler
(p) (c) 1990 Firebird Arts & Music, Inc., BMI
P.O. Box 14785, Portland, OR 94214, USA
FAM-12003
Ad blocker interference detected!
Wikia is a free-to-use site that makes money from advertising. We have a modified experience for viewers using ad blockers

Wikia is not accessible if you've made further modifications. Remove the custom ad blocker rule(s) and the page will load as expected.