Chickasaw Mountain (cassette tape)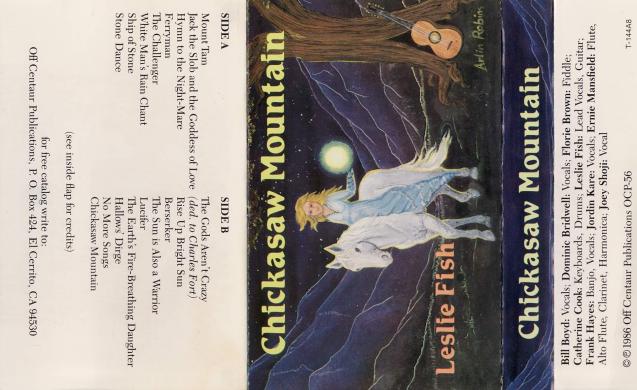 (c) & (P) 1986 Off Centaur Publications OCP-56
All songs are written by Leslie Fish unless noted.
Performers: Bill Boyd--vocals; Dominic Bridwell--vocals; Florie Brown--fiddle; Catherine Cook--keyboards & drums; Leslie Fish--lead vocals and guitar; Frank Hayes--banjo & vocals; Jordin Kare--vocals; Ernie Mansfield--flute, alto flute, clarinet, harmonica; Joey Shoji-- vocal.
Side A:
Mount Tam--LF,DB
Jack the Slob and the Goddess of Love (Fish, arr. Bill Boyd)--LF,JS,DB,BB,CC
Hymn to the Night-Mare--LF,DB,CC
Ferryman (Mercedes Lackey/Fish)--LF,DB,CC
The Challenger LF,CC
White Man's Rain Chant--LF,DB,JK,BB
Ship of Stone (Don Simpson)--LF,EM
Stone Dance (attrib. to Fish, actually John M. Ford/Rev.George Bennard)--LF,EM,DB
Side B:
The Gods Aren't Crazy (ded. to Charles Fort)--LF,DB,JK,BB
Rise Up Bright Sun--LF
Berserker (Fish, arr. Arlin Robins)--LF,DB,BB
The Sun Is Also A Warrior--LF,EM,CC
Lucifer (Simpson, arr. Ellen Guon)--LF,CC
The Earth's Fire-Breathing Daughter--LF
Hallows' Dirge (Christa Heiden Landon)--LF,FB
No More Songs (Phil Ochs)--LF,EM
Chickasaw Mountain (Fish, arr. Arlin Robins)--LF,DB,FH
---
Hallows' Dirge (c) 1982 Christa Heiden Landon
Producer: Teri Lee; Sr. Engineer: Jeff Rogers; Engineer: Teri Lee; Artwork: Arlin Robins
Dolby (tm) stereo, duplicated in real time
---
Firebird Arts and Music edition
Ad blocker interference detected!
Wikia is a free-to-use site that makes money from advertising. We have a modified experience for viewers using ad blockers

Wikia is not accessible if you've made further modifications. Remove the custom ad blocker rule(s) and the page will load as expected.