Dancing Flames (cassette tape)
Phoenix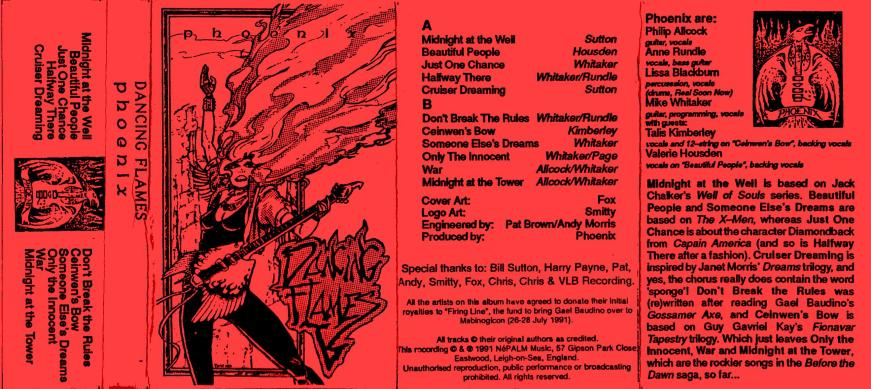 Side A
Midnight at the Well (Sutton)
Beautiful People (Housden)
Just One Chance (Whitaker)
Halfway There (Whitaker/Rundle)
Cruiser Dreaming (Sutton)
Side B
Don't Break The Rules (Whitaker/Rundle)
Ceinwen's Bow (Kimberley)
Someone Else's Dreams (Whitaker)
Only the Innocent (Whitaker/Page)
War (Allcock/Whitaker)
Midnight at the Tower (Allcock/Whitaker)
---
Cover Art: Fox
Logo Art: Smitty
Engineered by: Pat Brown/Andy Morris
Produced by: Phoenix
Special thanks to: Bill Sutton, Harry Payne, Pat, Andy, Smitty, Fox, Chris, Chris & VLB Recording.
All the artists on this album have agreed to donate their initial royalties to "Firing Line", the fund to bring Gael Baudino over to Mabinogicon (26-28 July 1991).
All tracks (c) their original authors as credited. This recording (c) & (p) 1991 Ne'PALM Music, 57 Gipson Park Close, Eastwood, Leigh-on-Sea, England.
Unauthorised reproduction, public performance or broadcasting prohibited. All rights reserved.
Phoenix are:
Philip Allcock: guitar, vocals
Anne Rundle: vocals, bass guitar
Lissa Blackburn: percussion, vocals (drums, Real Soon Now)
Mike Whitaker: guitar, programming, vocals
With guests:
Talis Kimberley: vocals and 12-string on "Ceinwen's Bow", backing vocals
Valerie Housden: vocals on "Beautiful People", backing vocals
"Midnight at the Well" is based on Jack Chalker's "Well of Souls" series. "Beautiful People" and "Someone Else's Dreams" are based on The X-Men, whereas "Just One Chance" is about the character Diamondback from Captain America (and so is "Halfway There" after a fashion). "Cruiser Dreaming" is inspired by Janet Morris' "Dreams" trilogy, and yes, the chorus really does contain the word 'sponge'! "Don't Break the Rules was (re)written after reading Gael Baudino's "Gossamer Axe," and "Ceinwen's Bow" is based on Guy Gavriel Kay's "Fionavar Tapestry" trilogy. Which just leaves "Only the Innocent," "War" and "Midnight at the Tower," which are the rockier songs in the "Before the Dawn" saga, so far...