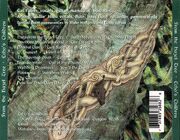 Album Credits
Edit
Cat Faber: vocals, guitar, mandolin, bodhran
Arlene 'Callie' Hills: vocals, flute, bass flute, recorder, pennywhistle
Special guest appearances by Blake Hodgetts and Cindy Turner
Track List
Edit
Nuts from the Hazel Tree
Bold Adventurer
Quaddie Ballet
Goodbye You Willamette
The Living Earth
Mortal Clay
Two Falls Out of Three
O, Sumer!
United 93
Jack Frost
The Spotted Goat
Columbia
High Frontier
Out of the Music's Way
Wedding Promises
You'll Be There
Rainsong
Sunshine Waltz
The Carousel
Tribute
How Far Back Does Music Go?

Cflute 07:06, 27 December 2008 (UTC)
Ad blocker interference detected!
Wikia is a free-to-use site that makes money from advertising. We have a modified experience for viewers using ad blockers

Wikia is not accessible if you've made further modifications. Remove the custom ad blocker rule(s) and the page will load as expected.