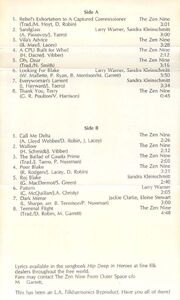 Hip Deep in Heroes
 is a Blake's 7 filk cassette tape by The Zen Nine from Outer Space. Members are: M. Garrett, T. Hubbard, S. Kleinschmitt, J. Lacey, D. Robin, N. Smith, E. Stewart, B. Tennison. It was published around 1990.
Rebel's Exhortation to a Captured Commissioner
Sandglass
Vila's Advice
A CPU Built for Who?
Oh, Dear
Looking For Blake
Everywoman's Lament
Thank You, Terry
Call Me Delta
Wallow
The Ballad of Gauda Prime
Poor Blake
Roj Blake
Pattern
Dark Mirror
Terminal Flight
Ad blocker interference detected!
Wikia is a free-to-use site that makes money from advertising. We have a modified experience for viewers using ad blockers

Wikia is not accessible if you've made further modifications. Remove the custom ad blocker rule(s) and the page will load as expected.